Big Tech is

H

arming

o

ur

C

hildren



Big Tech must be held accountable for how they harm our children. pic.twitter.com/JowKddoyO7


— Energy & Commerce GOP (@HouseCommerce) October 4, 2021
"You've broken my trust. Yes, because you've failed to promote the battle of ideas and free speech. Yes, because you censor political viewpoints you disagree with. Those polarizing actions matter for democracy. But, do you know what has convinced me Big Tech is a destructive force?  It's how you've abused your power to manipulate and harm our children. Your platforms are my biggest fear as a parent. I'm a mom of three school-aged kids. My husband and I are fighting the Big Tech battles in our household every day. It's a battle for their development, a battle for their mental health, and ultimately, a battle for their safety. I've monitored where your algorithms lead them. It's frightening. I know I'm not alone." —
Energy and Commerce Committee Republican Leader Cathy McMorris Rodgers
Big Tech Timeline
The rise of Big Tech and social media platforms has
coincided with an
alarming surge in
the number of American teens experiencing mental health issues, such as anxiety and depression:
Between 2011 and 2018 
—



R

ates of depression, self-harm, suicides, and suicide attempts exploded among American teens;

       




R

ates of teen depression increased by more than 60 percent, with the larger increase among young girls

.

 



Between 2009 and 2015
—



E

mergency room admissions for self-harm among 10- to 14-year-old girls tripled, and suicides substantially increased;

 




T

eens who used their devices for five or more hours a day were 66 percent more likely to have at least one suicide-related outcome compared to those who used their device for just one

, according to one study.

 



The new realities of COVID-19 have
further increase
d
the amount of time our children
spend
on their devices and online. T
he beginning of 2021
, Energy and Commerce Committee Republicans decided t
o take action
to
hold Big Tech accountable
.
Our children's mental health and well-being is worth fighting for, and parents will need the
necessary
tools
,
information
, and transparency from B
ig Tech
in order to have a fair fight
.
January 26, 2021: 
Leader Rodgers share
d
her
Big Tech Accountability
Platform
in a m
emo
to Committee
and House Leadership laying out her aggressive agenda and priorities to hold Big Tech accountable.
February 5, 2021:
Leader Rodgers and Republican?Subcommittee?Leaders Rep. Robert
Latta
, Rep. Gus Bilirakis, and Rep. Morgan Griffith
issued a letter
to
Committee Chairman Frank Pallone Jr.
d
emanding that a
hearing be held
with
Big Tech
CEO
s to hold them accountable
for their increasingly destructive actions
.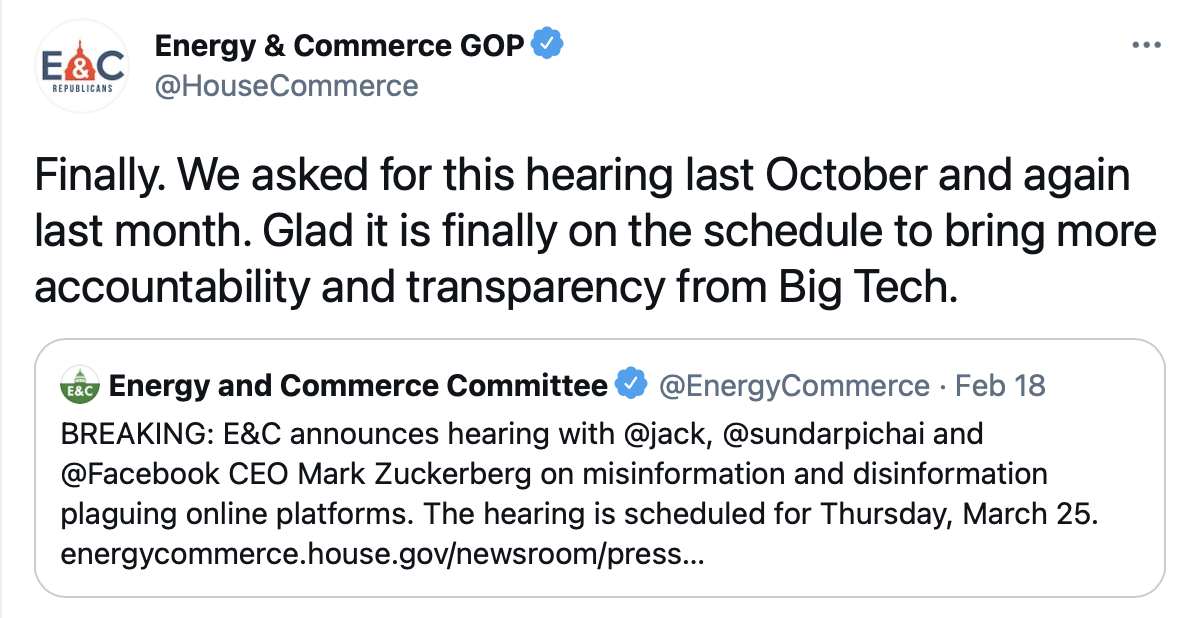 February 18, 2021:
The Majority
announce
d
Big Tech hearing months after
Republicans ask
ed
for it
.
March 8, 2021:
In advance of the House Energy and Commerce Committee hearing with Big Tech CEOs, Republicans on the Committee
put out a call to action
from the public
on their concerns for and trust of Big Tech
and received feedback from thousands of Americans across the country.
The Public
overwhelmingly confirmed they do not trust Big Tech and they want more transparency on how Big Tech runs their platforms.
March 25, 2021:
The Energy and Commerce Committee
held
a
hearing
with the CEOs of Facebook, Google, and Twitter,
on how their platforms
are
hurt
ing
children's mental health and well-being.
The bottom line
was
that Big Tech has grown too powerful
, t
hey have not been responsible stewards of their platforms, which is having harmful consequences for our children.
March 30, 2021:
Following the Big Tech hearing,
Leader Rodgers
and other
Republican
s
ubcommittee Leader
s
issued letters
to Big Tech CEOs requesting information regarding internal research or studies conducted by the companies to better understand their product's
harm
on children's mental health.
April
15, 2021:
Republican staff on the Energy and Commerce Committee circulate
d
a
staff memo
outlining several legislative concepts
—
based on the Big Tech Accountability Memo
—to help drive future policies addressing Big Tech, including Section 230,
protecting children online,
 and transparency requirements for content moderation
.
May 5, 2021:
Facebook's Content Oversight Board announce
d
its decision to uphold the company's ban on Trump
's account. Several committee leaders, including
Cathy McMorris Ro
dgers
, Bob Latta, and Gus Bilirakis issued statements on the Orwellian process
that lacked both transparency and accountability
.
June
16, 2021:
Leader Rodgers circulate
d
a
memo
with Committee Republican members and staff articulating the third pillar of her Big Tech Accountability Platform, which addresses the relationship Big Tech has with China,
in
particularly
its
access to
Americans
' personal information
.
July 7, 2021:
House Energy and Commerce Committee Republicans, led by Republican Leader Rodgers, unveiled a
comprehensive package
of discussion draft bills to hold Big Tech accountable by improving transparency and content moderation accountability, reforming Section 230 of the Communications Decency Act, promoting competition, and preventing illegal and harmful activity on their platforms.
July 23, 2021
: In a letter from 189 Republican Members of Congress, including House Energy and Commerce Committee Republican Leader Cathy McMorris Rodgers and House Republican Leadership, urged the Biden Administration to abandon their censorship mission and respond to inquiries regarding their coordination with social media companies to censor Americans.
December 1, 2021
: House Energy and Commerce Committee holds a
Communications and Technology Subcommittee hearing on holding Big Tech accountable for censoring free speech.
March 14, 2022
: ?In a letter House Energy and Commerce Republican Leader Cathy McMorris Rodgers (R-WA), along with House Minority Whip and Select Committee on the Coronavirus Crisis Ranking Member Steve Scalise (R-LA), Judiciary Committee Ranking Member Jim Jordan (R-OH), and Oversight and Reform Committee Ranking Member James Comer (R-KY) sent a letter to the U.S. Surgeon General, Dr. Vivek Murthy, regarding his ongoing pressure campaign to collude with Big Tech and censor Americans online.